Wholesale Program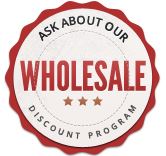 Are you a commercial or home based business looking for ribbon?
Open a wholesale account with us!
What is the difference between the FinerRibbon wholesale accounts program and the programs offered by other ribbon companies? Some companies charge you a monthly fee to enroll you in their wholesale account program, others ask you to buy a minimum quantity or a certain value, well phooey on them and their bargains!
Here at FinerRibbon.com we do not require any of those conditions!
No Minimum Orders Required!

No Monthly Membership Fees!

No Sign-up Fees!
Whether you are a fully established business or a home based business looking to buy ribbon on a regular basis, we'd be happy to enroll you in our wholesale program where you will get immediate, discounted prices on all your purchases!
So click here to contact us or call us on 1-514-570-5196 and ask us about enrolling in our wholesale program, we'll set everything up for you and you will benefit from our discounted pricing right away!